Sonnenstromfabrik installs machinery for new generation of PV modules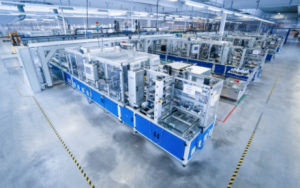 SONNENSTROMFABRIK (CS Wismar GmbH), one of Europe's cutting-edge leaders in manufacturing high-quality photovoltaic modules, has invested in new, state-of-the art machinery for the manufacture of solar cells up to 220 mm in size with half-cut and tri-cut cell technology. This prepares the company for the trend toward even larger wafer sizes, which will become the new global standard in the next few years.
Pioneering solar cell technology made in Germany
In the short term, the planned renovations will enable SONNENSTROMFABRIK to produce high-performance PV modules with larger wafer sizes in its double-glass and glass/foil growth segments. Engineers at SONNENSTROMFABRIK have collaborated with the machinery manufacturer to develop an innovative production facility the likes of which has never been seen before. The specialists already took into account the additional requirements predicted for the coming years as a result of the expected dynamic technological transition. This should secure SONNENSTROMFABRIK's position as a technology leader in the long term. The new machinery is set to be commissioned in the third quarter of this year.
New generation of PV modules – release in early summer
A new generation of PV modules with larger wafers will be ready for launch in early summer. SONNENFABRIK has developed this new generation with sustainability in mind. The company has incorporated the latest technological advancements into its products while at the same time eliminating the need to repeatedly change the PV modules' external dimensions, ensuring that customers can effectively plan for the future. Information on the new product range will be available from early summer.
Ensuring a smooth technological transition
All of SONNENSTROMFABRIK's old PV module designs will remain available until the end of 2021. Popular product lines such as the Brilliant and Solrif PV module series will also continue to be manufactured. By supplying replacement modules for older PV installations, the company can ensure a smooth technological transition.
Dr Bernhard Weilharter, Managing Director of SONNENSTROMFABRIK, says, "Our new generation of PV modules takes advanced half-cut and tri-cut cell technology into the more demanding sector of high-end PV modules. Sustainability has always been our priority, and we have upheld this priority with the new generation of PV modules."

About Sonnenstromfabrik
Sonnenstromfabrik (CS Wismar GmbH) is one of Europe's cutting-edge leaders in manufacturing high-quality photovoltaic modules. The module plant has established itself as a forerunner in quality products. Today, Sonnenstromfabrik offers the largest range of glass/glass modules in the industry, which it produces both under its own branding as well as on commission for other solar industry manufacturers. Its production facility in the northern German city of Wismar is already about 25 years old. The company's glass/foil modules are no exception to the company's high standards for quality, design and performance. Customised, off-grid and roof-integrated modules round out Sonnenstromfabrik's product range. Sonnenstromfabrik was the first in the industry to completely redefine sustainability, at the same time developing certified low-carbon production processes. Sonnenstromfabrik's products win customers over with their substantially longer lifespans and greater efficiency compared to conventional solar modules.
Press contact
necom Werbeagentur GmbH
PR Division
Jürgen Preiss
Lindenallee 43
50968 Köln
Tel.: +49 (0)178 50 30 414
Email: preiss@necom.de