Sonnenstromfabrik invests in fully automated final assembly facility for PV modules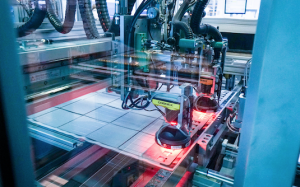 SONNENSTROMFABRIK (CS Wismar GmbH), one of Europe's cutting-edge leaders in manufacturing high-quality photovoltaic modules, has successfully made the final assembly stage of its high-quality PV modules fully automated and strengthened its quality assurance and quality control at the same time. The fully automated production line is equipped to manufacture PV modules with a total annual capacity of up to 200 MWp. SONNENSTROMFABRIK's existing, partially automated, final assembly facility will remain in operation to ensure sufficient flexibility in manufacturing OEM products and special modules.

Sustainable and profitable growth trajectory
The new machinery is part of a large-scale investment initiative within SONNENSTROMFABRIK's sustainable growth strategy. The company's renewed economic success in the previous financial year is proof that its strategy works. SONNENSTROMFABRIK also managed to increase the sales of its high-quality PV modules by 30 percent.
Investment in quality
The full automation of the final production facility included the integration of additional quality checkpoints. Higher quality standards bring added value for SONNENSTROMFABRIK's customers. As one of the industry's few companies with its production facilities in Germany, SONNENSTROMFABRIK also looks after its employees. Those whose jobs have been replaced by the full automation will not simply be displaced, but will be moved to pre-production facility, where continuously rising sales have led to a need for more hands.
Production capacities for special designs
SONNENSTROMFABRIK will keep its partially automated final assembly facility in operation to ensure the availability of frequently requested special designs such as Brilliant modules or roof-integrated systems from the Integration series. This guarantees that the company will not lose production capacity for its popular modules and special designs.
Dr Bernhard Weilharter, Managing Director of SONNENSTROMFABRIK, says, "With this new manufacturing technology, we are once again taking a leap in increasing our efficiency. This new capacity also means improved product quality. At the same time, we can continue to guarantee the production of popular modules from our product range as well as photovoltaic modules with special designs."
About Sonnenstromfabrik
Sonnenstromfabrik (CS Wismar GmbH) is one of Europe's cutting-edge leaders in manufacturing high-quality photovoltaic modules. The module plant has established itself as a forerunner in quality products. Today, Sonnenstromfabrik offers the largest range of glass/glass modules in the industry, which it produces both under its own branding as well as on commission for other solar industry manufacturers. Its production facility in the northern German city of Wismar is already about 25 years old. The company's glass/foil modules are no exception to the company's high standards for quality, design and performance. Customised, off-grid and roof-integrated modules round out Sonnenstromfabrik's product range. Sonnenstromfabrik was the first in the industry to completely redefine sustainability, at the same time developing certified low-carbon production processes.
Sonnenstromfabrik's products win customers over with their substantially longer lifespans and greater efficiency compared to conventional solar modules.
Press contact
necom Werbeagentur GmbH
PR Division
Jürgen Preiss
Lindenallee 43
50968 Köln
Tel.: +49 (0)178 50 30 414
E-Mail: preiss@necom.de