Product innovations: Sonnenstromfabrik introduces powerful module sizes with larger wafers and higher performance value-up to 490 Wp.
Product innovations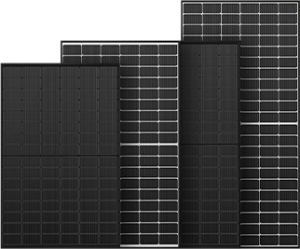 SONNENSTROMFABRIK (CS Wismar GmbH), one of Europe's cutting-edge leaders in manufacturing high-quality photovoltaic modules, offers three new sizes for both glass/glass and glass/foil PV-panels from late autumn. Using a modern half-cut cell technology and a wafer size of 182 mm² SONNENSTROMFABRIK's PV-modules will achieve high performance values up to 490 Wp.

Planning security for customers due to future-proof technology
With tremendous invests in automatization for pre- and final production as well as innovational production equipment, which can handle wafer sizes up to 220 mm², SONNENSTROMFABRIK has set the conditions to secure its leading technology position over long term. The requirements for the dynamic change in technology for the next years were anticipated and the capacity for the production "Made in Germany" doubled. This means long-term planning security for all of the SONNENSTROMFABRIK customers.

Thee new sizes for high-quality PV-modules
With three new module sizes from 1560 x 1145 mm to 2110 x 1145 mm SONNENSTROMFABRIK supplies powerful solutions with future-proof technology for easy handling on the roof top, highest aesthetical demands as well as extensive applications for solar parcs.
The smallest size (1560 x 1145 mm / 19,5 - 23 Kg / 350 Wp) was designed especially for a handy installation for residential buildings. With the middle-sized panel (1745 x 1145 mm / 22 - 26 Kg / 400 Wp), SONNENSTROMFABRIK offers a high power and aesthetic version for the design-driven premium segment. The biggest size with 2110 x 1145 mm and 490 Wp of SONNENSTROMFABRIK's new generation is the perfect solution for PV-power–plants in open space. All new PV-modules are also available with low reflection and low carbon option. The smaller and middle-sized panels are additionally available in color option "Full Black" and also with an option with microinverter by Enphase.
The new product generation will be available from Q1/2022. Datasheets and pricing will be published end of September 2021. Orders for the new products can be placed by October 2021, with an expected delivery in January 2022.

Transition period for Excellent modules series
All existing SONNENSTROMFABRIK's PV-panel sizes are still available till the end of 2022. Popular product lines such as the Brilliant and Solrif PV module series will also continue to be manufactured. By supplying replacement modules for older PV installations, the company can ensure a smooth technological transition.
Dr Bernhard Weilharter, Managing Director of SONNENSTROMFABRIK, says, "With our new generation of PV modules we emphasize our aspiration as a manufacturer of high-power PV-modules in premium class and prove that PV-panels "Made in Germany" offer various added values in matters of sustainability, aesthetics and reliability but also performance values.
New SONNENSTROMFABRIK's PV-module generation*
Source: Sonnenstromfabrik.com
About Sonnenstromfabrik
Sonnenstromfabrik (CS Wismar GmbH) is one of Europe's cutting-edge leaders in manufacturing high-quality photovoltaic modules. The module plant has established itself as a forerunner in quality products. Today, Sonnenstromfabrik offers the largest range of glass/glass modules in the industry, which it produces both under its own branding as well as on commission for other solar industry manufacturers. Its production facility in the northern German city of Wismar is already about 25 years old. The company's glass/foil modules are no exception to the company's high standards for quality, design and performance. Customised, off-grid and roof-integrated modules round out Sonnenstromfabrik's product range. Sonnenstromfabrik was the first in the industry to completely redefine sustainability, at the same time developing certified low-carbon production processes. Sonnenstromfabrik's products win customers over with their substantially longer lifespans and greater efficiency compared to conventional solar modules.
Compared to conventional solar-modules SONNENSTROMFABRIK's products providing a significant longer lifetime and a high efficiency. As part of the Global PV Installer Monitors by EuPD research, SONNENSTROMFABRIK (CS Wismar GmbH) was awarded for "Top Brand PV Germany 2021" and "Top Brand PV Austria 2021".

Press contact
necom Werbeagentur GmbH
PR Division
Jürgen Preiss
Lindenallee 43
50968 Köln
Tel.: +49 (0)178 50 30 414
Email: preiss@necom.de