Design upgrade makes Sonnenstromfabrik's black and full black glass/glass module even more durable
Design upgrade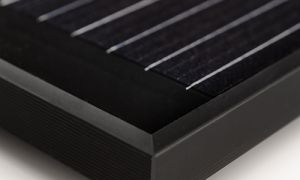 SONNENSTROMFABRIK (CS Wismar GmbH), one of Europe's cutting-edge leaders in manufacturing high-quality photovoltaic modules, has advanced the design of its high-grade black and full black glass/glass modules. The integration of a black monolayer within the double-glass laminate makes the design even more stylish. The new design by SONNENSTROMFABRIK doesn't just look good, it also makes the elegant PV modules even more durable.
Black double glass PV modules in optimised design
The new module design includes a black monolayer within the double-glass laminate behind the cells. As a result, the backside of the module is clearly recognisable as black glass, giving the modules an even more sophisticated look. Previously, the black backsheet was laminated behind the glass. Some customers were not happy with the visible plastic sheet. The robust glass backside has the additional advantage of making the black glass/glass module even more durable. The developers also expect that the new design will have a positive effect on the modules' fire classification. External laboratories are currently carrying out the relevant tests, with results expected before spring is over.
The new design will be available for black, as well as for full black modules. Full black modules also come with black side connections at the top and bottom of the module. There are also plans to switch PV modules with a white backsheet to the new design by the third quarter of 2021.
Dr Bernhard Weilharter, Managing Director of SONNENSTROMFABRIK, says, "The introduction of the new module design is a first step towards the product switch to new module formats with larger wafers. Following extensive investment into pioneering production technology, we are currently working on the product design for the new generation of PV modules. The introduction of the new semi and third-cut cell technology is schedule for the autumn."

About Sonnenstromfabrik
Sonnenstromfabrik (CS Wismar GmbH) is one of Europe's cutting-edge leaders in manufacturing high-quality photovoltaic modules. The module plant has established itself as a forerunner in quality products. Today, Sonnenstromfabrik offers the largest range of glass/glass modules in the industry, which it produces both under its own branding as well as on commission for other solar industry manufacturers. Its production facility in the northern German city of Wismar is already about 25 years old. The company's glass/foil modules are no exception to the company's high standards for quality, design and performance. Customised, off-grid and roof-integrated modules round out Sonnenstromfabrik's product range. Sonnenstromfabrik was the first in the industry to completely redefine sustainability, at the same time developing certified low-carbon production processes. Sonnenstromfabrik's products win customers over with their substantially longer lifespans and greater efficiency compared to conventional solar modules.
Press contact
necom Werbeagentur GmbH
PR Division
Jürgen Preiss
Lindenallee 43
50968 Köln
Tel.: +49 (0)178 50 30 414
Email: preiss@necom.de