Housing development Houthaven Pier 2 is almost energy neutral thanks to a highly aesthetic, full-surface PV solution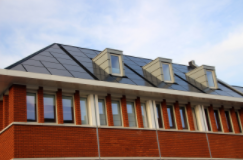 SONNENSTROMFABRIK (CS Wismar GmbH), one of Europe's cutting-edge leaders in manufacturing high-quality photovoltaic modules, has developed a full-surface photovoltaic installation for the hip roof covering 58 dwellings in Amsterdam's new Houthaven quarter. Its innovative combination of a roof-mounted structure with aesthetic roof-integrated optics was designed and constructed by the technical engineering team at SONNENSTROMFABRIK in close collaboration with the client Oranjedak – a major player in the Dutch roofing industry.
Close to Amsterdam's city centre, the up-and-coming area of Houthaven is a modern, low-traffic island quarter with plenty of green space and access to the water. When it is finished, Houthaven will comprise seven residential areas with about 2,000 buildings and over 70 houseboats. The Water Section of Pier 2 consists of 58 buildings, some of which feature their own private docks.
The engineers in charge of constructing the Water Section building complex sought to find an innovative PV solution for active electricity generation which complies with the strict Dutch Almost Energy Neutral Building (Bijna Energieneutrale Gebouwen, BENG) requirements. At the same time, the architects' high standards had to be considered. With its many slanted surfaces coming together to form numerous edges, the hip roof design posed a particular challenge with regard to the aesthetic optics of the photovoltaic installation. The flexible production methods employed at SONNENSTROMFABRIK enabled the customised batch fabrication of tailor-made triangular dummy modules. These modules all feature the same materials – high-performance and visually stunning SONNENSTROMFABRIK glass/glass modules.
A total of 1,700 glass/glass modules with a nameplate capacity of 325 Wp each as well as 185 custom-made dummy modules were installed. The average annual output of each dwelling is 9.5 kWp. Moreover, the buildings have been equipped with a 13-kWh LG Chem battery system in combination with a SolarEdge hybrid inverter. This arrangement guarantees an optimal energy yield despite the different alignments of the modules and shadowing effects. The project thus fulfils the BENG requirements and meets the high architectural standards with regard to the optics. The long-term product warranty of 30 years for SONNENSTROMFABRIK glass/glass modules and the 25-year product warranty offered by SolarEdge also guarantee secure green electricity generation for the residents.
Dr Bernhard Weilharter, Managing Director of SONNENSTROMFABRIK, says, "With this full-surface photovoltaic installation fitted to a hip roof, we were once again able t o prove that active electricity generation with PV roof-mounted systems can go hand in hand with exquisite building envelope aesthetics."